Test for Newer Style SeaDoo Plug-in Type MPEMs (5 Amp Fuse Test)
This test determines if the MPEM is causing the 5A fuse to blow on the MPEM fuse block. To perform this test you will need to unplug all the connectors from the MPEM and then remove the MPEM. Insert a known good 5A fuse into the appropriate 5A slot on the MPEM.
All Plug-in MPEM's are powered via two spade terminals, one positive and one negative. Power to the MPEM is always supplied via two male spade terminals on the same plug. The male 1/4" terminals are labeled 24 through 26 on all MPEM plugs. By using the connection information below; first find the proper connector number on your MPEM, and then connect a 12V supply negative to the spade terminal. Next, connect the 12V supply positive to the proper spade terminal of the same plug. If the fuse opens when you turn on the power supply, the MPEM is at fault. If not, something other than the MPEM is causing the fuse to blow.
EXAMPLE:

If the power supply connection chart below indicates 3-26 for the positive terminal. The first picture below shows connector 3, circled in green, which is the first number in the power supply connection chart.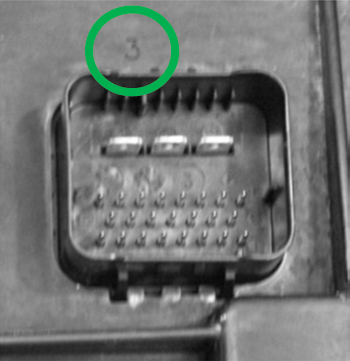 The picture above shows terminal 26, which is the terminal number in the power supply connection chart.
Note: Spade terminal 24 is always on the right, 25 in the middle and 24 on the left when viewing the connector as oriented in the picture.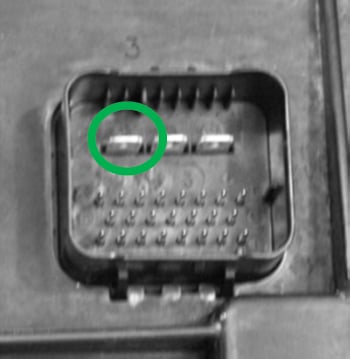 MPEM Power Supply Connection Chart
| | | | |
| --- | --- | --- | --- |
| PART NO. | FITS | NEGATIVE | POSITIVE |
| 204-470-139 | 98 CHALLENGER / 00 CHALLENGER | 1-26 | 1-24 |
| 204-470-155 | 98-99 CHALLENGER 1800 / 99 SPEEDSTER | 1-26 | 1-24 |
| 204-470-184 | 98-99 SPORTSTER 1800 / 99 SPEEDSTER SK | 1-26 | 1-24 |
| 204-470-545 | 00 SPORTSTER LE | 3-24 | 3-26 |
| 204-470-179 | 98 SPORTSTER / 00 SPORTSTER | 1-26 | 1-24 |
| 278-000-916 | 97 GTI GS / 98 GTI GS | 1-25 | 1-26 |
| 278-000-926 | 98 GSX LTD ('97 PRODUCTION) | 3-24 | 3-26 |
| 278-000-928 | 97 GSI | 2-25 | 2-24 |
| 278-000-939 | 98 GTX RFI | 3-24 | 3-26 |
| 278-001-031 | 97 GSX | 3-24 | 3-26 |
| 278-001-078 | 97 XP | 2-24 (3-24) | 2-26 (3-26) |
| 278-001-199 | 98 XP LTD | 3-24 | 3-26 |
| 278-001-201 | 97 GSX | 3-24 | 3-26 |
| 278-001-342 | 98 XP LTD | 3-24 | 3-26 |
| 278-001-343 | 98 GSX & GTX LTD | 3-24 | 3-26 |
| 278-001-356 | 99 GSX RFI & GTX RFI | 3-25 | 3-26 |
| 278-001-362 | 99 GSX LTD | 3-24 | 3-26 |
| 278-001-398 | 99 GTX LTD / 00-01 LRV | 3-24 | 3-26 |
| 278-001-440 | 00 GTX DI & RX DI | 3-24 | 3-25 |
| 278-001-496 | 99-01 GS / 01 GTS / 99-02 GTI | 1-25 | 1-26 |
| 278-001-499 | 99 GSX LTD & XP LTD | 3-24 | 3-26 |
| 278-001-525 | 00-02 GTX | 3-24 | 3-26 |
| 278-001-526 | 99 GSX LTD / 00 RX LTD / 01 RX RXX / 1999-2002 XP | 3-24 | 3-26 |
| 278-001-529 | 00 GSX RFI GTX RFI / 01 GTX RFI | 3-24 | 3-26 |
| 278-001-577 | 98 XP LTD | 3-24 | 3-26 |
| 278-001-695 | 00-01 GTX DI & RX DI | 3-24 | 3-25 |
| 278-001-774 | 00-01 GSX RFI / 01 GTX RFI | 3-24 | 3-26 |
| 278-001-796 | 03-04 GTI (& LE) | 1-25 | 1-26 |
| 278-001-848 | 03 GTI RFI | 3-24 | 3-26 |
| 278-001-981 | 04 GTI RFI (& LE) | 3-24 | 3-26 |
| | | | |